GIVI E300N2, GIVI E300NT2 TOP CASES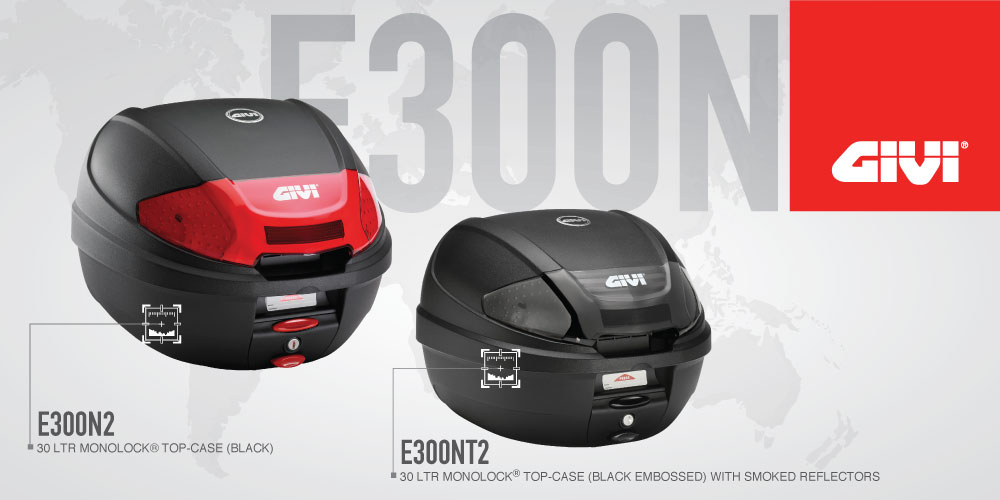 Specially designed for the daily commuter.

Large enough storage space for most items.

Adds more flair to your daily commute too!
Coming to you from GIVI, the leader in motorcycle cases are the GIVI E300N2 and E300NT2 top cases. They are stylish options for urban riders who prefer a compact top case.
FEATURES:
30-litre carrying capacity.
Can carry up to 3kg (depending on the rack).
Space for one full-face type helmet plus other small items.
Latest and secure GIVI Micro 2 locking system.
Shell made of long lasting and strong proprietary polypropylene (PP).
Material is also UV-tested and does not fade over time.
Large and stylish reflectors.
Two options: E300N2 with red reflectors, E300NT2 with smoked reflectors.
USAGE EXPERIENCE:
The GIVI E300N2 and E300NT2 top cases are specifically developed for riders who are conscious about the width of the motorcycle, especially in urban areas, while also being able to carry items in safety. At the same time, the case must look good.
As stylish as it is, the 30-litre capacity can fit one full-face helmet or a folded GIVI rainsuit or backpack in place of the other. There is ample space for other small items, as well.
Being smaller also means there is less air drag, which the rounded edges of the case seek to address. The rider of a lighter motorcycle should not feel aerodynamic disturbances with this case.
Whether it is to add more storage space to your motorcycle or scooter, the GIVI E300N2 and E300NT2 are great options.
Please visit your nearest GIVI Point, GIVI Specialised or authorized GIVI dealer to view the products. You may click on this link to find their locations. Conversely, you may also visit our official Facebook page or click on this link in our website for more information for the latest news, happenings and other products.
IT PAYS TO BUY GENUINE GIVI PRODUCTS