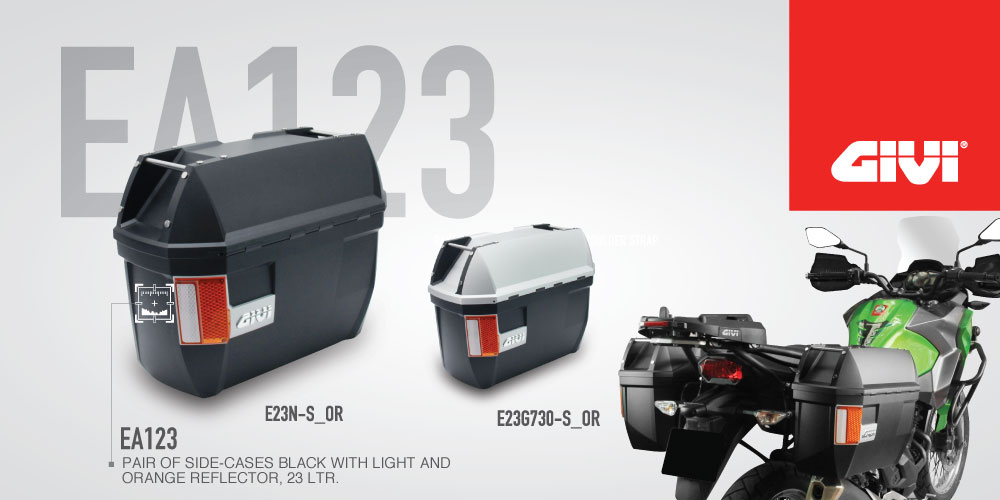 Updated, strong

The GIVI E23 hard side case traces its lineage to the ever popular E22, but updated with more space and new features.

Features:
23-liter capacity.
GIVI Monokey technology.
Made using GIVI's proprietary anti-UV polymer technology.
Maximum carrying load of up to 5kg.
Reflectors for visibility and safety.
Mount points on top cover.
Model types:
E23N-S_OR with light and orange reflective lenses.
E23G730-S_OR with metallic silver and orange reflective lenses.
Usage Experience:
Just like its E22 predecessor, the E23 is ideal for those who seek compact and streamlined set of hard side cases. As such, the E23 is a great fit for motorcycles such as mopeds and lightweight adventure bikes such as the Versys 250.
A great benefit of being an updated product means the product has been tested over a period of time.
The mounting points on the case cover allows more items to be tied down securely on top of the cases, thereby expanding storage space. For example, placing a GIVI rainsuit on top of the case allows for quick access to it when you encounter a sudden rainstorm.
Please visit your nearest GIVI Point, GIVI Specialised or authorized GIVI dealer to view the products. You may click on this link to find their locations. Conversely, you may also visit our official Facebook page or click on this link in our website for more information for the latest news, happenings and other products.
IT PAYS TO BUY GENUINE GIVI PRODUCTS