GIVI CRT01.AX-N RAIN PANTS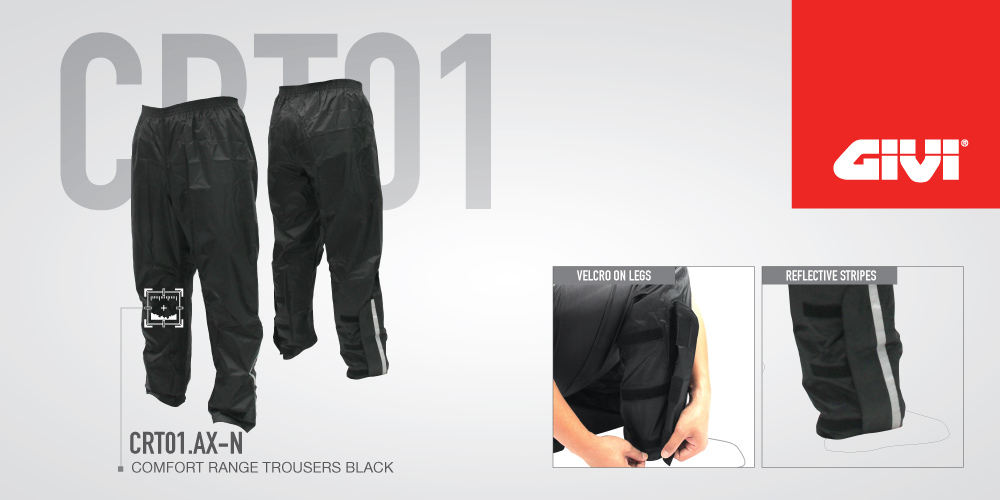 Separate but just as good
As in so far, one could only purchase the full set of GIVI rain gear complete with jacket and pants. But what if you need just the pants or an extra pair?
This is why we responded with the GIVI CRT01.AX-N rain pants.
Features:
Fully waterproof.
Elastic waistband.
Velcro pant legs for adjustment.
Reflective panels for safety.
Pouch bag for carrying included.
Sizes range from S to 6XL.
Usage experience:
The GIVI CRT01.AX-N Rain Pants offers a solution to those who require an extra pair, or as replacement, or to supplement his existing waterproof jacket.
These pants are made in the same vein as the GIVI CRS01.AX rain suit, thereby guaranteeing the same long-lasting level of waterproofing and comfort.
The rainy season is upon us again at the time of this writing, so look no further.
Please visit your nearest GIVI Point, GIVI Specialised or authorized GIVI dealer to view the products. You may click on this link to find their locations. Conversely, you may also visit our official Facebook page or click on this link in our website for more information for the latest news, happenings and other products.
IT PAYS TO BUY GENUINE