GIVI CRS02.AX Rain Suit & SC02-N Shoe Cover
Because getting wet is only for fishes
The rainy season is fully upon us in Malaysia. In fact, the Malaysian Meteorological Department has warned of constant rain from this point onwards until December.
Does this mean we should stop riding? No way! What we need is functional and dependable rain gear to stay dry (and safe). You are in luck because GIVI is well-known for our rain gear.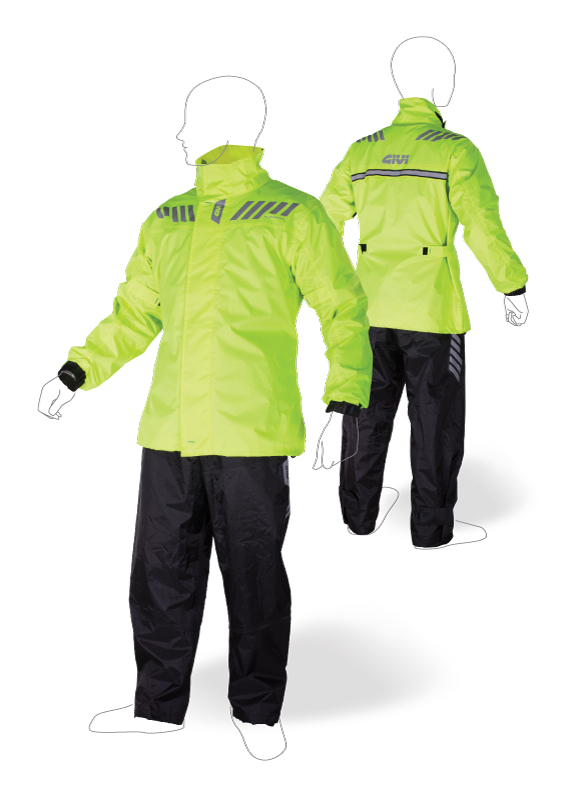 GIVI CRS02.AX Rain Suit
The CR02.AX is GIVI's latest product to keep you dry even under the heaviest rain storms.
But we have also included a number of features to make it the only rain suit you should ever consider owning.
The CRS02.AX line-up is known as the "Comfort rain suit" as its Ripstop Nylon material is waterproof and breathable at the same time. Being breathable means it regulates the temperature inside the suit, keeping you cool. Being dry is one thing but no one wants to feel being steamed alive. There is also an air vent on the back to exhaust stale, hot air.
It is a useful feature for our weather pattern. If you have ridden long enough, you would experience how it pours down like in an automatic car wash for a couple of kilometers followed by the sun suddenly re-emerging, before it starts raining again.
We have personally tested all our rain suits in the real world, as with all other GIVI products before approving them for production. The best test was when we rode for more than 600 kilometers under the rain for 18 hours from Cambodia to Vietnam; we were grateful to be protected all the way by our beloved GIVI rain suits.
Other features include:
Tall collar minimizes water seeping inside the suit as it runs down the helmet.
Internal waterproof and zippered pocket to store important items.
Elastic cuffs for maximum adjustability.
Velcro pads on waist and sleeves besides elastic cord on hips.
Wide pant legs to allow pulling them on without removing your footwear.
Three Velcro pads on each leg for adjustability and secure closure.
Reflective panels for high visibility.
Choose from four colours, including hi-visibility yellow.
Drawstring bag is included.
The CRS02.AX Rain Suit is priced RM244.00 (S-3XL) and RM255.00 (4XL-5XL) inclusive of SST.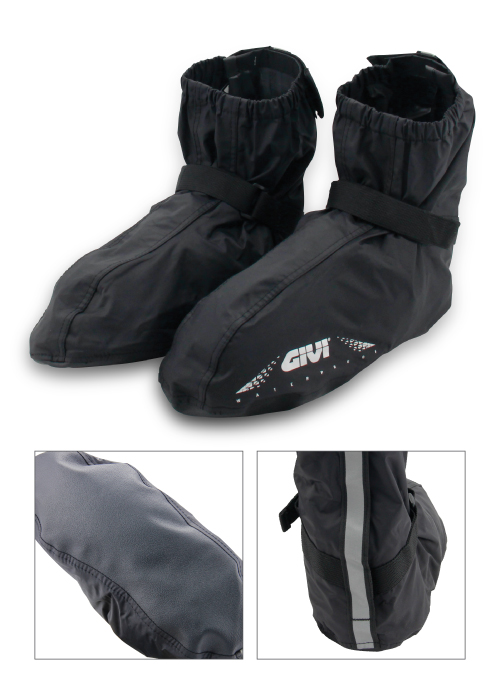 SC02-N Shoe Cover
Imagine riding to work in your work shoes in the rain. Then imagine wearing them around for the entire day, while the aroma reminds your colleagues of the seafood section in local supermarket; never mind the discomfort of sloshing around in them.
We have seen local motorcyclists riding in slippers, sandals and with plastic bags covering their shoes. Practical solutions, but it is entirely unsafe to ride in such matter. It is not because we want to sell this product but we motorcyclists ourselves know how dangerous it is to ride without footwear that covers the toes.
The GIVI SC02-N Shoe Cover was designed to keep your feet and shoes dry, but also importantly, to keep them safe.
The SC02-N features a large opening at the rear, secured by high-quality Velcro. The large opening allows for easy entry with your shoes or riding boots on.
Another big improvement is the thick sole underneath for added security. It may look simple but the sole is slip resistant.
The shoe cover is made tall so that your GIVI rain suit's pant legs cover them to minimize water splashing up from underneath and over into the cover.
The SC02-N Shoe Cover is priced from RM80.00 inclusive of SST.
Conclusion
GIVI provides the best solutions for wet weather riding and they are indispensable for any motorcyclists in our climate. The products' quality is assured, and they last for a long time. However, do purchase genuine GIVI products from trusted sources to enjoy the best we have to offer.
Please click here for the list of GIVI Points and authorized dealers.