GIVI CRS01.AX COMFORT RAIN SUIT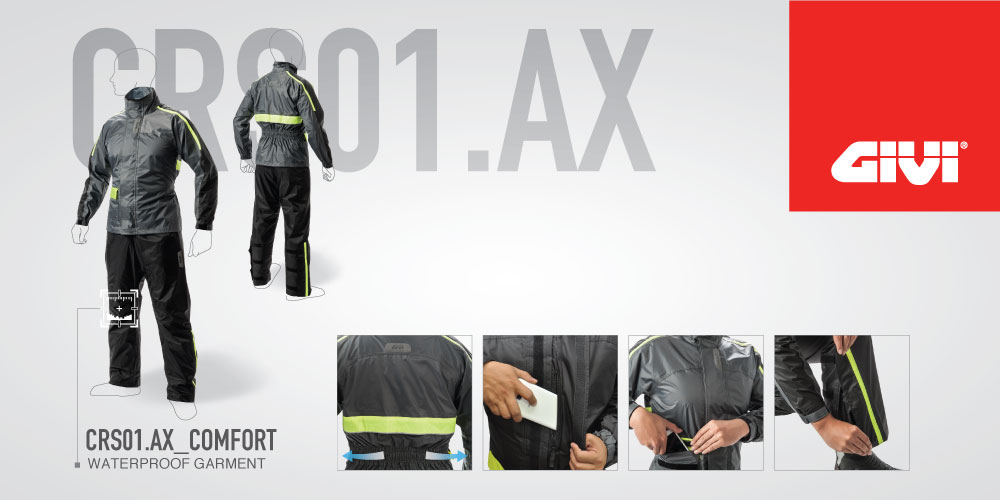 Yes, rain gear can be comfortable
The GIVI CRS01.AX is another line-up in GIVI's extensive waterproof range.
As the name suggests it provides not only waterproofing but comfort during its use under any rain condition,
Features:
Nylon 190T PVC material.
5000mm water column waterproof rating.
Adjusters for upper arms, wrists and waist and pant legs.
Elastic band on the back of the waist.
1 internal and 1 external pockets.
Elastic cuffs and pants waist.
Reflective panels for visibility and safety.
High visibility fluorescent yellow panels.
Drawstring pouch included.
Sizes from S to 6XL.
Usage experience:
The CRS01.AX Comfort rain suit continues GIVI's expertise in producing truly waterproof rain gear.
The new material is breathable for maximum comfort, but we have added an "exhaust" flap at the back of the jacket to vent hot, stale air. That way, the wearer does not feel hot especially when trudging through heavy traffic in the rain, or when the rain suddenly stops.
It also features a more contemporary styling with fluorescent yellow panels and stripes for maximum visibility in the rain. Reflective panels light up with just a hint of light.
Apart from that, it has 2 to store items in waterproof compartments.
This rain suit was tested heavily during the GIVI Golden Triangle Adventure ride in 2017, where the participants had to ride under 16 hours of rain from Cambodia to Thailand. Everyone got back dry.
A certain media person also tested it during a ride to Perlis and back to Kuala Lumpur, during which he encountered non-stop heavy rain. He was happy to report that he stayed dry and comfy.
Please visit your nearest GIVI Point, GIVI Specialised or authorized GIVI dealer to view the products. You may click on this link to find their locations. Conversely, you may also visit our official Facebook page or click on this link in our website for more information for the latest news, happenings and other products.
IT PAYS TO BUY GENUINE