GIVI BELLA RIDE TO PANGKOR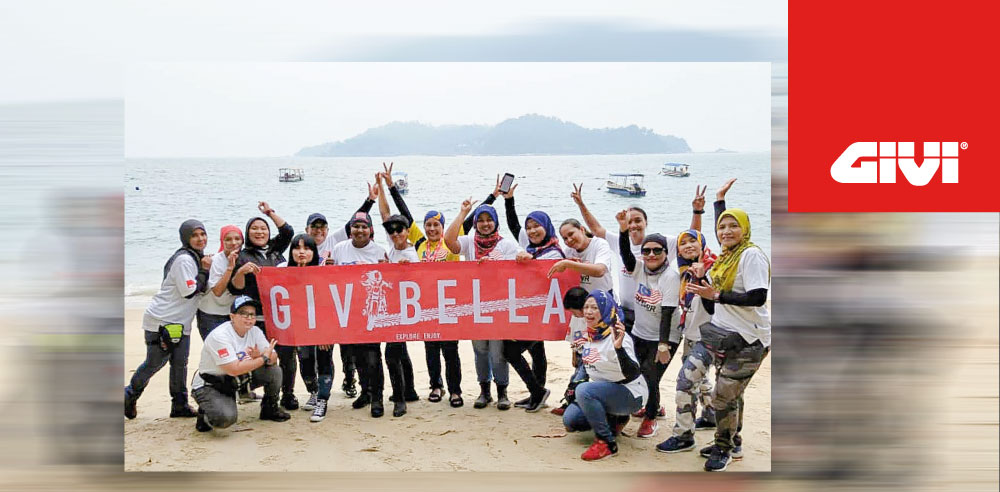 14 – 16 SEPTEMBER 2019
The second event for Ladies Ride & Camp" in Pangkor Island, Perak was held recently by GIVIBELLA from the 14th – 16th September 2019. With 22 participants #GiviBella was represented with Givi's brand ambassador Anita Yusoff in support of the Women Riders World Relay.
Flagging off from the GIVI Factory Bukit Beruntung, the handover of the baton by "Bad Girls Throttle" for the Women Riders World Relay to GIVI Bella was also held on that Saturday morning. Light refreshments were served throughout the morning accompanied by the usual safety briefings from the ride Marshalls and the baton ceremony handover was completed by 9 am that morning.
Thus, the journey from Bukit Beruntung to Lumut Jetty began and off they were to the islands for some fun under the sun!!! What made this trip even more memorable was the campsite was right by the beachside!!!!! Upon reaching, they were all so excited and couldn't wait to set up their campsite and get into the water, shortly after some relaxation and just mixing around and getting to know everyone, lights were off early. On the next day, as early risers started the day with Aerobics exercises by the beach by one of the Bella's as the lead instructor, later the activities continued with Island hopping by the group and a lot of photo moments in Pangkor Island was captured.
The BBQ night was the most satisfying part of the trip as all the dishes were made deliciously by themselves!!! A sharing session about their riding two-wheel experience was also conducted and as an appreciation towards GIVIBELLA commitment for making this event a success, some freebies were presented to the participant.
Overall, the 2nd edition of Ladies Ride & Camp in Pangkor Island was a successful event. Their passion for two-wheels, being sporting, their cooperation, teamwork, and willingness portrays a strong bond and amazing friendship. Hoping to see more of #GIVIBella in the next ride!