GIVI BELLA RIDE & CAMP 2020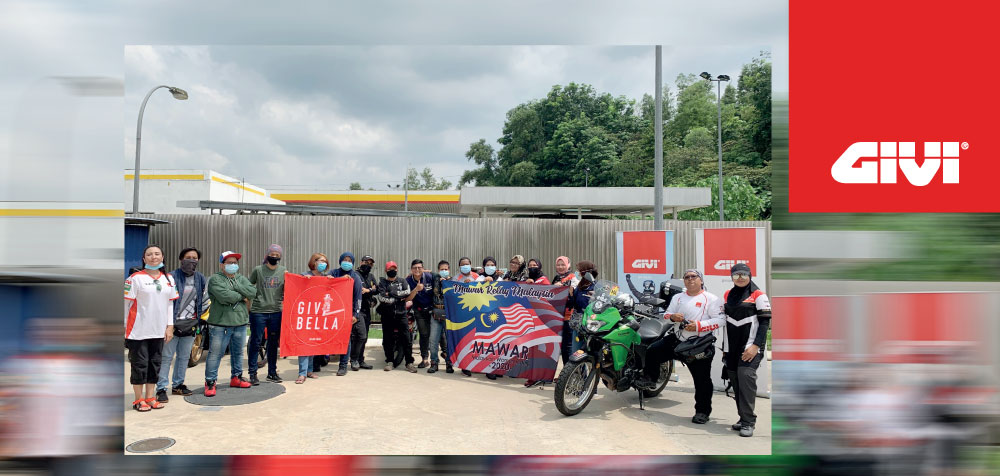 GIVI BELLA is back for "Ladies Ride & Camp"!
A three-days "Ladies Ride & Camp" with GIVI Bella was held recently at Janda Baik, Pahang. This event was flourished with 20 registered participants of GIVI BELLA in support of "M.A.W.A.R. – Malaysian Women Rider and their cause". GIVI Bella is a group formed in February 2020, It is a group emphasizing and incorporating women in the world of riders.
The adventure was officiated with a handover baton by the "Cigaros Momxsys" to GIVI Bella on Friday evening at Shell Melati, Kuala Lumpur. The ceremony was completed at 4 pm on the same evening. Safety tips too were briefed by the marshals accompanied the group before the flagging off session. The group took 45 Minutes to reach Santai Riverside, Janda Baik.
Upon reaching, they were mesmerized seeing the campsite which has been set up for them! Tired but that did not stop the ladies gearing up for their night activities. The dinner was enriched with the goodness of delicious "Kampung" dishes. Albeit being away from their home comfort, the female riders determined to experience the night fully, and therefore the lights too were not switched off early! They were all hooked with their exchanged memories about their own resounding riding tales from all around the world. A night to remember, it was!
The next day, greeted them with more fun moments and adventurous activities, including feel the adrenaline rush and off-road ATV ride to experience the nature at Rimba Valley! The day was spent indeed very special. The group was served and well taken care by GIVI. Not to miss out on the dinner; BBQ night, it was exclusively prepared by GIVI Malaysia Staff themselves for the whole 20 participants. The ingredients were freshly handpicked and deliciously marinated with traditional herbs which had left the participants in awe. The highlight of the ride, was the Lucky Draw session and the main winner swapped away the attractive GIVI M10.2 Vista Helmet!
Overall, GIVI Bella's "Ladies Ride & Camp 2020" was a huge success this year. Though the event was conducted yearly, but each year has its own merits to cherish. Our main motto of forming the Givi Bella is well paid, as we have had the opportunity to get closer to the woman riders in the community.
We hope the "LADIES RIDE & CAMP" will more happening and grandeur in coming years! Good luck Bella!!!