GIVI B34N MONOLOCK TOP CASE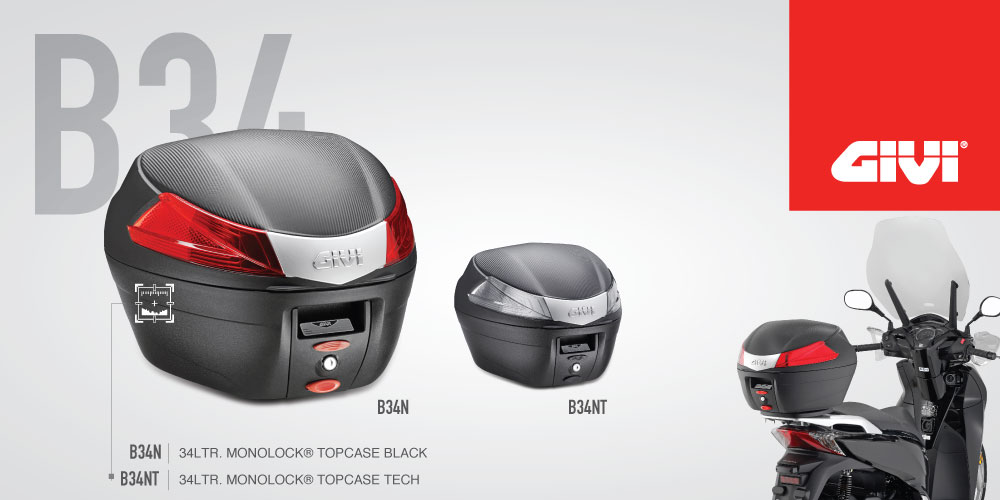 Compact top case for urban riders
As you pretty much know by now, GIVI offers a large range of cases in different sizes, designs and types to fit your usage and budget.
We understand that not all riders commute, nor do all riders tour. But we do know that riders need extra storage for convenience.
One such case is the B34N/B34NT Monolock top case.
Features:
Tough and strong Technopolymer shell for longevity and safety.
34 litre capacity.
Up to 5 kg maximum load.
"Carbon fibre" lid.
Optional brake light installation.
Choose from the B34N with red reflector and B34NT Tech with smoked reflector.
Usage experience:
The B34N and B34NT are aimed at urban riders who commute on a daily basis. The dimensions of the cases are kept compact to allow for better clearance in traffic. Besides that, the rider can park his motorcycle easier in crowded places.
Although compact, the case can accommodate one full-face helmet. There is also more than ample space for a GIVI rain suit (an indispensable item.
The B34 case also features a "carbon fibre" lid. In so doing, the design keeps up with current trends.
Last but not least, the large reflectors give higher visibility to enhance rider safety.
Please visit your nearest GIVI Point, GIVI Specialised or authorized GIVI dealer to view the products. You may click on this link to find their locations. Conversely, you may also visit our official Facebook page or click on this link in our website for more information for the latest news, happenings and other products.
IT PAYS TO BUY GENUINE GIVI PRODUCTS