GIVI B33NM "ATLAS" TOP CASE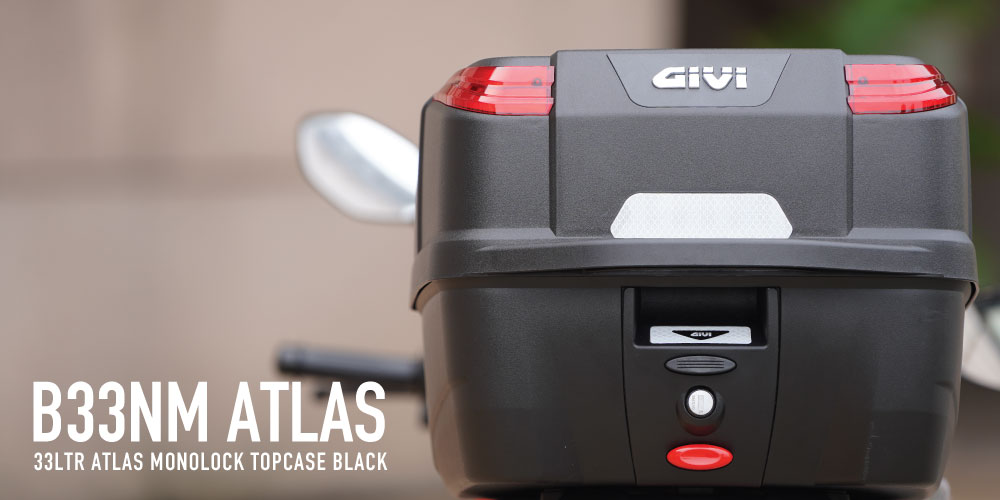 The B33NM "ATLAS" top case is a new generation midsize top case.

Designed for the daily commuter, it is compact yet has plenty of storage space.

Made of Technopolymer, it will last for years.
The GIVI B33NM "ATLAS" top case is a medium-capacity top case, but with a boxier (no pun intended) design. The design means a rider can insert more items easily.
While motorcycle cases are seen as a must-have to those tour, they are essential to the daily commuter, too. However, the main concern for commuters is the size of the case. A large case allows one to store many items but may be too wide for riding through traffic. A small case allows for easy riding but may not have enough carrying capacity.
FEATURES:
33 litre carrying capacity.
Can carry up to 5kg (depending on the rack).
Space for one full-face helmet plus other small items.
Proven and secure GIVI Micro 3 locking system.
Shell made of long lasting and strong proprietary Technopolymer.
Material is also UV-test and does not fade over time.
USAGE EXPERIENCE:
The GIVI B33NM "Atlas" top case is specifically developed for riders who are conscious about the width of the motorcycle, especially in urban areas, while also being able to carry items in safety, while its design with the two large reflectors brings forth a feel of exclusivity.
At 33 liters, it can fit one full-face helmet or a folded GIVI rainsuit or backpack in place of the other. There are still enough space other small items, as well.
Being smaller also means there is less air drag, which the rounded edges of the case seek to address. The rider of a lighter motorcycle should not feel aerodynamic disturbances with this case.
The Micro 3 locking and attachment system provides easy but secure fastening to the bracket, but also allows for quick detachment when the rider wants to remove the case. The lock type's security has been proven for many years.
So, if you want a case that is neither too small or large, go for the GIVI B33NM.
Please visit your nearest GIVI Point, GIVI Specialised or authorized GIVI dealer to view the products. You may click on this link to find their locations. Conversely, you may also visit our official Facebook page or click on this link in our website for more information for the latest news, happenings and other products.
IT PAYS TO BUY GENUINE GIVI PRODUCTS