GIVI B32N-ADV Bold Advance Top Case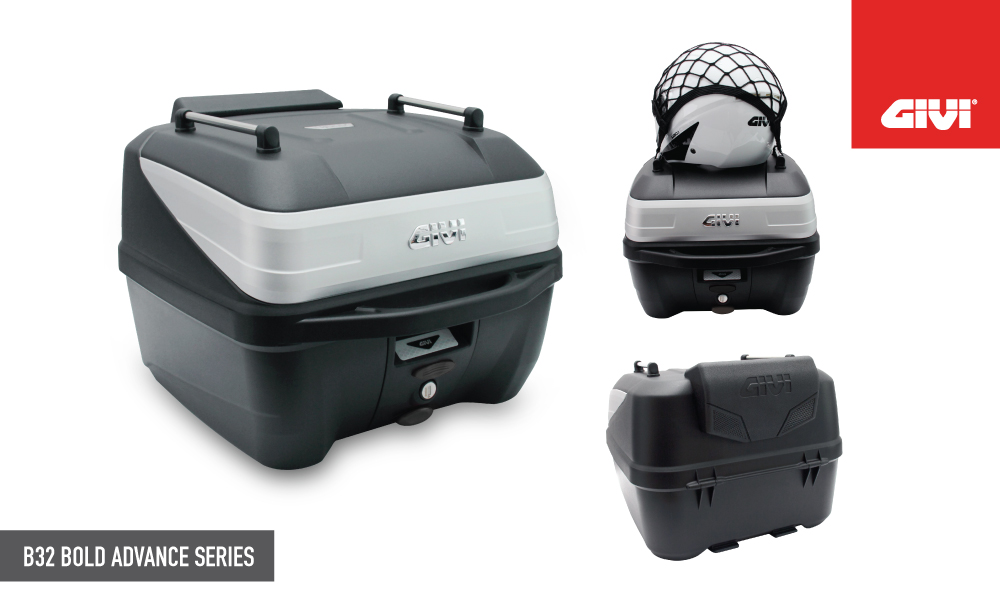 Latest evolution of the most popular compact top case
The GIVI B32N-ADV Bold Advance top case is the evolution of the popular B32N Bold.
The B32N was launched two years ago to rousing reception among motorcyclists of all sizes due to its compact nature, ease of use and reliability. Apart from that, it was designed in the vein of another popular GIVI top case, the E43NTL Mulebox.
However, the E43NTL now has a "fully-loaded" version called the E43NTL-Adv. So, it only makes sense to evolve the B32N to have the features of the E43NTL, as well. With the upgrades, the B32N offers motorcyclists a compact storage solution not only for the daily commute but also for touring capabilities.
Features:
32-liter storage capacity
A pair of tough metal rails on the lid, expanding the storage capacity.
Cargo carrying net to secure more loads.
Backrest for passenger's comfort.
Inner padding to provide cushioning to cargo.
Tough polypropylene (PP) shell.
Squarish shape eases cargo loading.
Can store a full-faced helmet.
Pull down and "click" locking mechanism.
Usage experience:
The GIVI B32N-ADV top case expands the capabilities to the already much-loved B32N. Being compact means a smaller footprint to avoid wind resistance. Apart from that, being compact means it fits well, stylistically, on big bikes. In other words, it does not look out of place on any bike. Its 32-liter capacity and squarish shape means you could insert almost anything into the box for carriage.
The additional steel rails on top of the lid allow not only the use of a cargo net, but also bungee cords, helmet nets and even straps. One tip is to carry your GIVI rain suit on top of the lid for easy access when you encounter a sudden rain squall.
As for the inner padding, it not only isolates your items from shock but also to let water from a wet item (such as a rain suit) to drain down to the bottom of the box. Consequently, your belongings do not have to sit in a puddle of water.
The GIVI B32N-Adv Bold Advance top case is priced from 340.00 (including SST). The racking system is sold separately.
*NOTE: Owners of existing B32N Bold can retrofit their units with the B32N-ADV's accessories separately.
Please visit your nearest GIVI Point, GIVI Specialised or authorized GIVI dealer to view the products. You may click on this link to find their locations. Conversely, you may also visit our official Facebook page or click on this link in our website for more information for the latest news, happenings and other products.
IT PAYS TO BUY GENUINE