GIVI B27N "CLACK" TOP CASE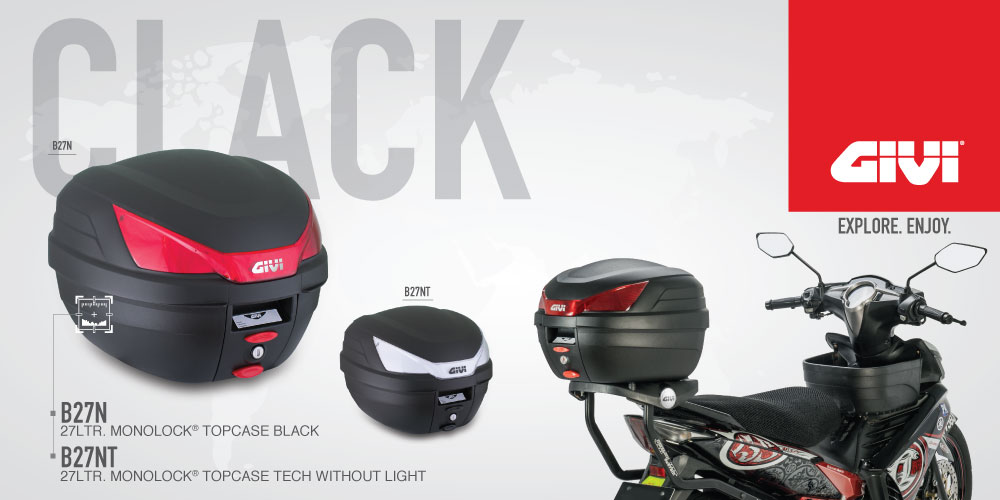 Possibly no other motorcycle luggage maker produces so many models, especially polymer ones, unlike us at GIVI. It is because we understand that everyone has a different need, budget, requirements. One such product is the GIVI B27N "Clack" top case.
FEATURES:
27 litre storage capacity.
Up to 5 kg in carrying weight.
Durable Technopolymer construction.
Airtight seal for weather resistance.
Can store one helmet.
Optional Universal Backrest E88M can be fitted.
S27 conversion kit with reflector can be fitted.
B27N Monolock Topcase black.
B27NT Monolock Topcase Tech without light (clear lens).
USAGE EXPERIENCE:
The GIVI B27 "Clack" is a favourite among many motorcyclists due to its compact size, yet ability to carry many items. The rider can store his helmet in addition to a rainsuit. Without the helmet, the case can store a small backpack and other items.
It offers a stylish yet functional and reliable storage system for every motorcyclist. Its shape is purposely designed as such to facilitate smooth airflow even at all speeds. It is compact enough to not get in the way of the passenger.
Speaking of the passenger, adding the optional Universal Backrest E88M provides much comfort to the passenger, while the S27 conversion kit upgrades the safety feature of the case.
The B27 gets its name from the sound of the locking mechanism when you lock the topcase. An audible clack can be heard when you lock the case securely. As such, the rider knows the case is not properly locked if he does not hear the clack.
Please visit your nearest GIVI Point, GIVI Specialised or authorized GIVI dealer to view the products. You may click on this link to find their locations. Conversely, you may also visit our official Facebook page or click on this link in our website for more information for the latest news, happenings and other products.
IT PAYS TO BUY GENUINE GIVI PRODUCTS