GIVI ASIA CELEBRATES ITS 25TH ANNIVERSARY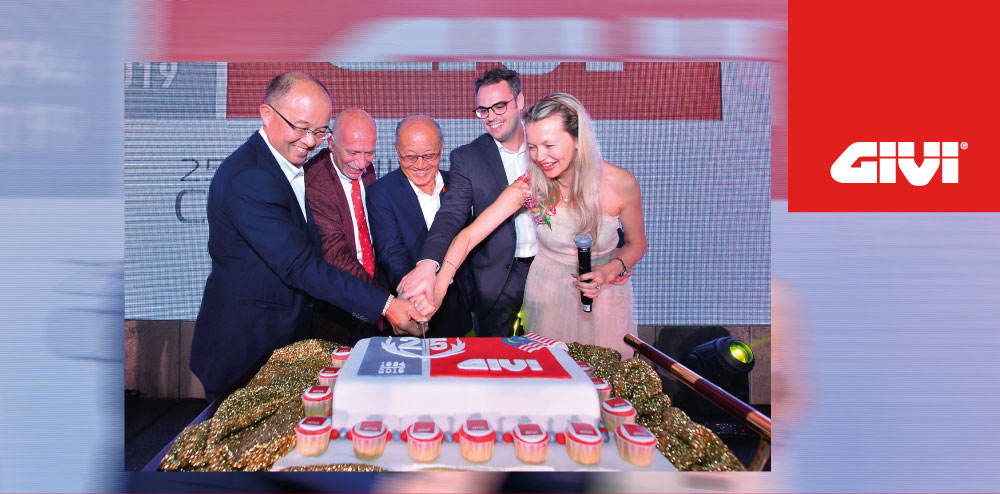 29TH MARCH 2019
On the 29th of march 2019 GIVI Asia celebrated its 25th Anniversary with an exciting launch and preview of its 2019 product line.
First a media luncheon and followed with a grand gala dinner both at the Grand Ion Delemen Hotel, Genting Highlands.
A ride with local media and guests was organized to Ion Delemen, flagging off from the Givi Asia factory and was joined by
Mr. Joseph A. Perucca, Overseas Operational Manager of GIVI Group and Ms. Hendrika Visenzi, Marketing Director of GIVI Group
and Umberto Visenzi. Following the Media Luncheon and Product Launch, 15 new products were revealed during that day from
the open session hosted by Samir Sharman Head of Marketing Givi Asia, Mr. On Hai Swee Managing Director Givi Asia and
Mr. Joseph A. Perucca, Overseas Operational Manager of GIVI Group. The second session continued with the media preview of
Givi's very own brand ambassador Anita Yusoff with her latest book in her series of adventure and riding collection entitled "Global
Dream Ride series 2".
The night continued gracefully with the Grand Gala Dinner, over 400 guests from Malaysia and over 7 other countries enjoyed
revelations of GIVI Asia path to success, product previews and samples placed throughout the outdoor courtyard and
surroundings, live performances, and other spectacular surprises during the dinner that left guests mesmerized and entertained.
Mr. On Hai Swee, Mr, Joseph A. Perucca, expressed their thanks and gratitude on stage with Ms. Hendrika Visenzi presenting a
special gift to the management team at Givi Asia Sdn.Bhd. Also present at the gala dinner was His Excellency Cristiano Maggipinto
Ambassador from the Italian embassy in Malaysia. A great liveliness moved throughout the celebration, where the guests and
many others gathered to celebrate the brand – a goal reached together!
A nice way to conclude the show, leaving an indelible mark, for GIVI Asia this has been a memorable 25 years and one full of
achievement and fond memories.
Till we meet again!!