GIVI ALA36 TREKKER ALASKA SIDE CASE
The best got better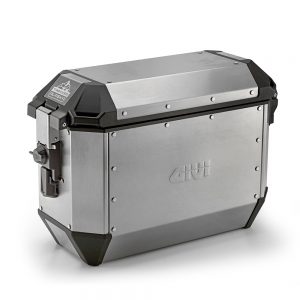 GIVI has been at the forefront of aluminium cases since the first Trekker rolled out of our factory doors.
As riders ourselves, we seek to have the best accessories on our motorcycles. We understand that great products benefit the rider in greater satisfaction, sense of security and ultimately enjoyment.
The new GIVI ALA36 Trekker Alaska side case is the result of this philosophy.
FEATURES:
Made of natural aluminium with mechanical treatment.
Stainless steel for hinges.
Reinforce Technopolymer for the edge protectors and belt strap boots.
WIRELEASE system detaches the case from the side frame by turning an external knob that is secured with a cable system.
HOLD IT EASY system allows the case to be tilted without releasing it from the frame. This feature allows easy opening of the lid when there is top a top case installed.
Lid can be fully opened without the use of straps or wires.
Ergonomic handle integrated into the lid hinge.
Four belt/strap loops built into the lid.
36 litre capacity.
Up to 10 kg maximum load.
The ALA36 Trekker Alaska brings GIVI's high quality aluminium case to another level.
While the previous Trekker cases were already good, we wanted to offer the Alaska with new features to make them even easier to use. This is especially important if you have ridden for hundreds of kilometres.
At 36 litres, the case allows you to store many items. One case alone can store a pair of riding boots, riding jacket and many more. A fully laden backpack can also be easily accommodated within.
As with all our cases and especially aluminium ones, the Trekker Alaska is built to be strong. The locking mechanism and latches are made to withstand punishing weather and use. It is definitely money well-spent as they will last you a long time.
Please visit your nearest GIVI Point, GIVI Specialised or authorized GIVI dealer to view the products. You may click on this link to find their locations. Conversely, you may also visit our official Facebook page or click on this link in our website for more information for the latest news, happenings and other products.
IT PAYS TO BUY GENUINE GIVI PRODUCTS