6 Clothing Items Motorcyclists should never Wear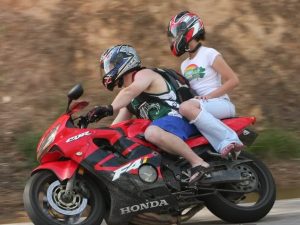 Every motorcyclist is already well-versed with the term ATGATT by now. The acronym stands for "all the gears, all the time." Unfortunately, many motorcyclists are still riding around in no other protective gear than a helmet. Here are the 6 Clothing Items Motorcyclists should never Wear.
1. Flip-flops, slippers, sandals, stilettos
If your toe hurt like crazy when you accidentally kicked the side of a cupboard, what defence does it have against a stone kicked up by another vehicle in front? Or if the toe touched the road? Even a modest 30 km/h can cause ghastly injuries to your digits.
2. Sneakers, gym shoes, tennis shoes, running shoes
They are comfortable and enclose the entire foot to provide some measure of protection. But they do not protect the bones that joins the feet to the leg bone. Besides that, they are too soft for motorcycle applications as they cannot stand up to impacts and abrasion.
3. Jeans, shorts, skirts
Everyone's favourite pants, the jeans are already inadequate against impacts and abrasion, so what can bare skin protect against? The legs hanging below the fuel tank are exposed to the exhaust and debris. Hitting the road at speed is even worse.
4. T-shirt, singlet, tank top, tube tops
Everyone wears these as they are comfortable and cooling but please wear a jacket over them.
5. All-black gear
All-black riding gear may look the bomb but turns us invisible to other road users who are already struggling to spot us. Wear brighter clothing and gear to stand out.
6. Novelty helmets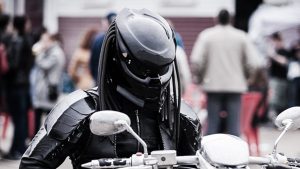 Helmets are produced in the shape they are after much research and development. Changing their shapes into novelty items such as the Predator and so forth will compromise your safety. In fact, there are novelty helmets sold with stickers that say that they are not for road use.
Closing
We hope you can remember these 6 clothing items motorcyclists should never wear, for your safety. Safety must always be the priority when we ride.
One last note
Please visit your nearest GIVI Point, GIVI Specialised or authorized GIVI dealer to view the products. You may click on this link to find their locations. Conversely, you may also visit our official Facebook page or click on this link in our website for more information for the latest news, happenings and other products.
IT PAYS TO BUY GENUINE GIVI PRODUCTS